NEGLIGENCE LAWYER
---
Lorem Ipsum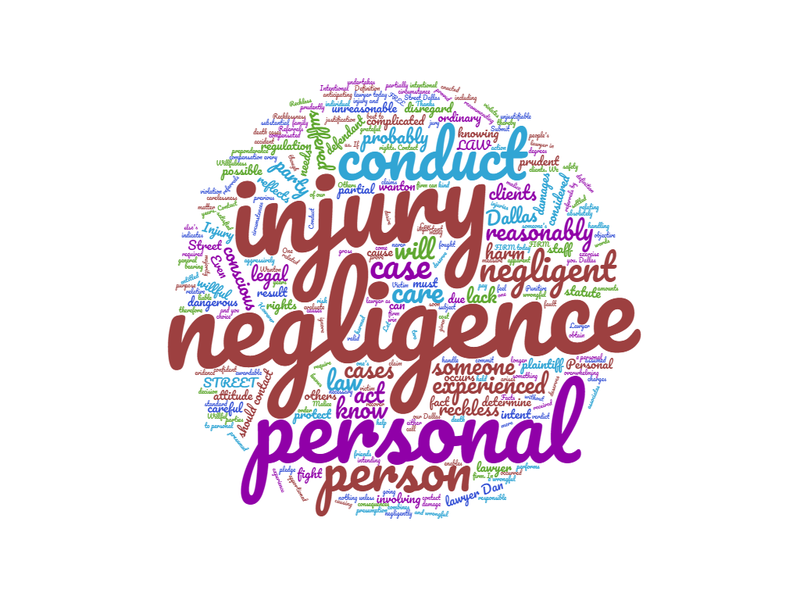 First of all, let our Dallas law firm fight your negligence case for you. Moreover, Dallas Negligence Lawyer Joey Messina and his firm have more than 35 years of knowledge handling negligence cases like yours.
THE MEANING OF NEGLIGENCE IN LAW
The lack of ordinary care, is the general meaning of negligence as it relates to personal injury law. The lack of ordinary care is an absence of the kind of care a reasonably prudent and careful person would exercise under the circumstances.
Thereby causing injury or damage to a person for not having given such care. If one's actions in a given situation don't hold up to this standard, then that person is deemed to be negligent.
Collin's dictionary defines it this way. "If someone is guilty of negligence, they have failed to do something which they ought to do".
SOME NEGLIGENCE FACTS
It is possible for you to be only partly negligent.

In most cases, you do not have to prove all charges of negligence.

However, even in partial negligence, you can be held liable.

Prior to an accident or injury, you are not responsible for predicting someone else's negligence. It is assumed that a party is not going to act negligently, therefore that party is required to act reasonably and prudently.

Furthermore, negligence is never presumed. Negligence must be proved by a large bulk of the evidence before you are entitled to recover for it.

Just because the accident involved you, does not mean the other person was negligent.

Finally, if two or more parties are negligent, and their negligence combines to cause injury, a jury must determine their relative degrees of fault. This enables damages to be shared. Even if one plaintiff has settled with the defendant, it has no bearing on the verdict.
NEGLIGENCE AND THE LAW
You are automatically deemed to be negligent if you violate a law or regulation. Especially one that has been enacted for all citizens' safety. Breaking the speed limit at the time of your accident is one example.
NEGLIGENCE AND CONDUCT
You are considered negligent if your intentional, reckless, willful or wanton action causes an injury.
INTENTIONAL CONDUCT
Intentional conduct is when you commit a conscious objective or purpose with a knowing desire. Such as punching a person or poisoning them.
RECKLESS CONDUCT
Reckless conduct amounts to an attitude of "I don't care". Recklessness occurs when you perform an act that is unreasonable and dangerous. An act that a reasonably prudent and careful person should know that harm will probably be a result of the action. For example, letting someone drive your car, that you know is drunk.
WILLFUL CONDUCT
Willful conduct indicates an intent, or a conscious decision, to ignore the rights of others. Willfulness is a conscious choice to ignore consequences when it is reasonably clear that someone will probably be harmed. Letting a customer leave your car repair shop knowing her brakes are likely to fail.
WANTON CONDUCT
Wanton conduct occurs when you, though not intending to, actually cause harm. That you do something so unreasonable and so dangerous that you either know or should know that harm will probably result. It reflects an "I don't care" attitude. For example, driving your car that has not had a state inspection done in many years while knowing it would fail one.
MALICE
Malice is the intent to commit a wrongful act without any just reason for doing so. Punitive damages are no longer awardable for gross negligence, reckless conduct, or willful or wanton conduct, but only for conduct involving malice. Pressing charges of guilt against you, while knowing you are innocent, would be me acting with malice.
NEGLIGENCE OF OTHERS
If you have suffered a personal injury due to the negligence, or partial negligence, of others, you deserve to be repaid for your injuries. However, negligence is sometimes a very tricky subject. You really should contact a personal injury lawyer knowledgeable in bringing negligence cases.
Joey Messina has fought negligence cases for almost 40 years. Contact Messina Law Firm today and we will fight your negligent injury case for you.
Personal injury victims have a defender.
Finally, If you have suffered an injury related to negligence, it's important to protect your rights. Contact an experienced personal injury lawyer as soon as possible. The legal staff at our Dallas law firm can assess your negligence case at no cost to you. Furthermore, if we learn you have a valid negligence claim, we will handle your case forcefully. Also, remember you pay nothing unless we win your personal injury case for you.
Also, you can Submit your case for FREE!
Thank You For the Referrals
Certainly, most of our clients come from referrals by our previous clients. We are grateful that many of our clients and friends feel secure in suggesting our law firm. In fact, The Messina Law Firm has received over 5,000 referrals from previously satisfied clients.