Sidewalk Injuries in Dallas.
Nov. 16, 2018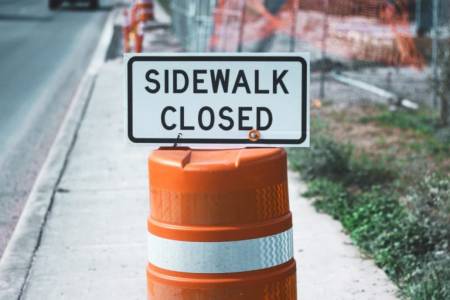 Sidewalk Injuries in Dallas. Who pays for the injuries sustained when you trip and fall on a sidewalk in the City of Dallas? The city you may have thought. That's not entirely true, the law says that the responsibility is a 50/50 split between the City of Dallas and the owner of the property where the sidewalk exists. However, if the city is not formally informed of the damaged pavement prior to the accident occurring, then they claim they have no liability or fault whatsoever in the matter.
Read the following interesting article by an investigative reporter at KRLD Dallas. This is a three-part investigation into the City of Dallas' questionable liability practices in Dallas regarding city sidewalks.
KRLD Reports on Sidewalk Injuries:
"I was just checking to see if the garbage had been picked up," said Nanette Burr. "And when I stepped down on this crack, my ankle twisted…dislocated and broke. And I heard all those things happening."
The Broken Sidewalk
Crack may be an understatement. The broken sidewalk rose more than four inches. Burr's pain was excruciating. She was all alone. Her screams may or not have been heard. "We have so many cats around here all my neighbors thought it was just the cats."
15-minutes later a friend down the block happened to walk to his car, saw Burr on the ground and called for help.
Slow Recovery, Lost Job.
Recovery was slow…Burr is in her 60's and admits things don't heal as they did when she was in her 20's. As an employee in an optometrists office, Burr was on her feet for eight hours a day. As a broken ankle patient, she couldn't stand at all.
Burr lost her $26.00 an hour job, which did not include an insurance plan, to begin with. Her medical bills were between $55,000 and $60,000.
City Sidewalk?
The house which had the broken sidewalk is a rental. Burr doesn't know who the owner is. She assumed the City of Dallas would at least help her with her expenses. "I still think it's the city's issue…is to maintain this," Burr said. "Even though there are roots and stuff growing through it. It's a city sidewalk."
Actually, it's not, at least according to the law. The city owns the right of way but the property owner is responsible for the sidewalk. If the city is notified of a crack, break or another defect, the cost of repair is split half-and-half between the City of Dallas and the property owner.
Failure to notify is the City's defense.
The notification, it ends up, is crucial to the city's liability. If the city is notified of a problem with a sidewalk and is slow in making repairs, a subsequent injury could result in damages being awarded to the injured. But failure to notify protects the city.That is a protection that is hard to overcome.
KRLD Investigation
The investigation by KRLD News finds over the last five years, 51 claims have been filed against the city because of broken or damaged sidewalks, including Burr. But in each case, the city rejected responsibility and refused to pay anything. The blame, the City claims, falls to the property owner.
"It's legal but it's not fair. I do not think it's fair at all," said Geoff Schorr, an attorney who has gone head to head with Dallas over sidewalk falls. "These people who fall, if someone doesn't have insurance, if someone lives paycheck to paycheck, they are hurt very badly in a fall like this. They lose their job. There's very little recourse for them."
Not all of the expenses are detailed in the claim forms filed against the city, but some individual claims are near $100,000.
The City of Dallas declined to provide a representative to answer questions, instead issuing a "…statement about claims in a general sense."…
"It's totally ruined my life," Burr said. " And I had big plans."
Very informative article, read it here.
If you or someone important to you has suffered an injury in a trip and fall caused by another party's negligence, then call Joey Messina. Joey is a Personal Injury and wrongful death attorney that is based in Dallas' Messina Law Firm. His initial consultations are always free at his Messina Law Firm.